Liam Keery
Product Designer
INK Venues
Website Redesign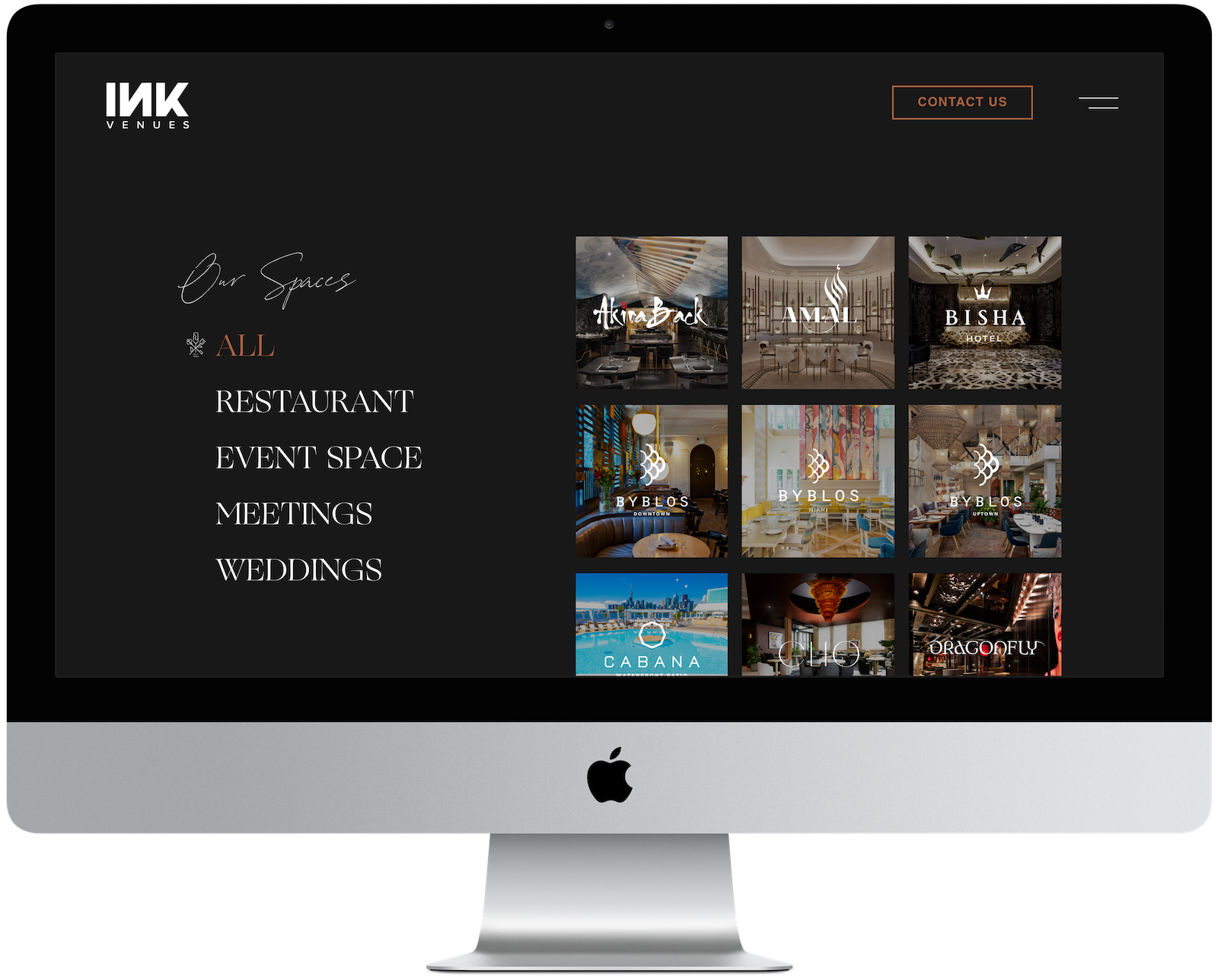 Project Overview
INK Entertainment Group is a leading North American lifestyle and entertainment company. Operating since 1982, INK Entertainment Group has demonstrated an enviable ability to read the pulse of ever-changing cultural times and tastes, responding with a host of successful enterprises.
INK Venues is the sales and bookings division for all venues under the INK portfolio. This includes venue rentals used for the purposes of meetings, private events, corporate events, and weddings. Currently, the portfolio holds 21 venues that are available for rental in Toronto and Miami.
In 2021, INK Entertainment was visually rebranded with new logos, typography, and colours. My task was to spearhead the overhaul of the INK Venues web presence so that it was inline with the updated INK branding. The purpose of the new website was to create a visually appealing representation of the INK Venues portfolio to increase venue booking requests.
Timeline: 1 Month
Tools: Figma
Team: Liam Keery (Design Lead), Mark Wissa (Developer)
Problems & Pain Points
To better understand the goals of this redesign, I met internally with project stakeholders within Marketing and Business to determine the needs of the website and how the new website could improve current process.
My Findings:
Outdated, broken page layout. The original Wordpress build for INK Venues presented challenges for the user with a broken flow of information, unfinished sections, and a poor layout in general.

Brand standards were not met. It was difficult to connect the visual identity of INK Venues with INK Entertainment, given that the company was recently visually rebranded. This was a problem for creating brand awareness.

Poor information architecture. The main purpose of the website is to provide information about each venue and allow users to request bookings. The original website had a lack of information for each venue, including limited photos, capacity information, and relevant descriptions. Poor navigation also made it difficult for the user to quickly access the information they were looking for.
Overall, it was evident that INK Venues needed a new website to address these issues and improve the user experience considerably.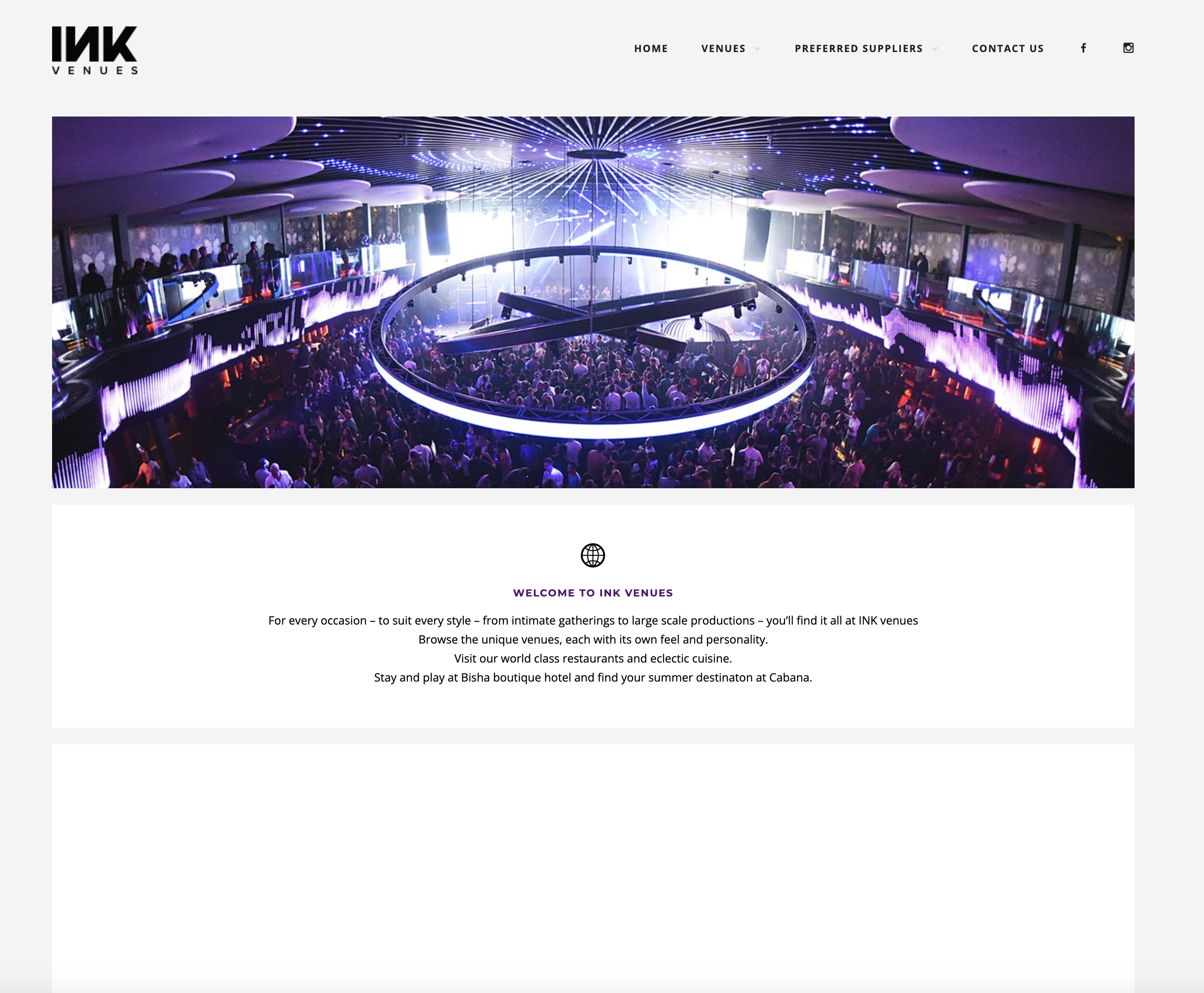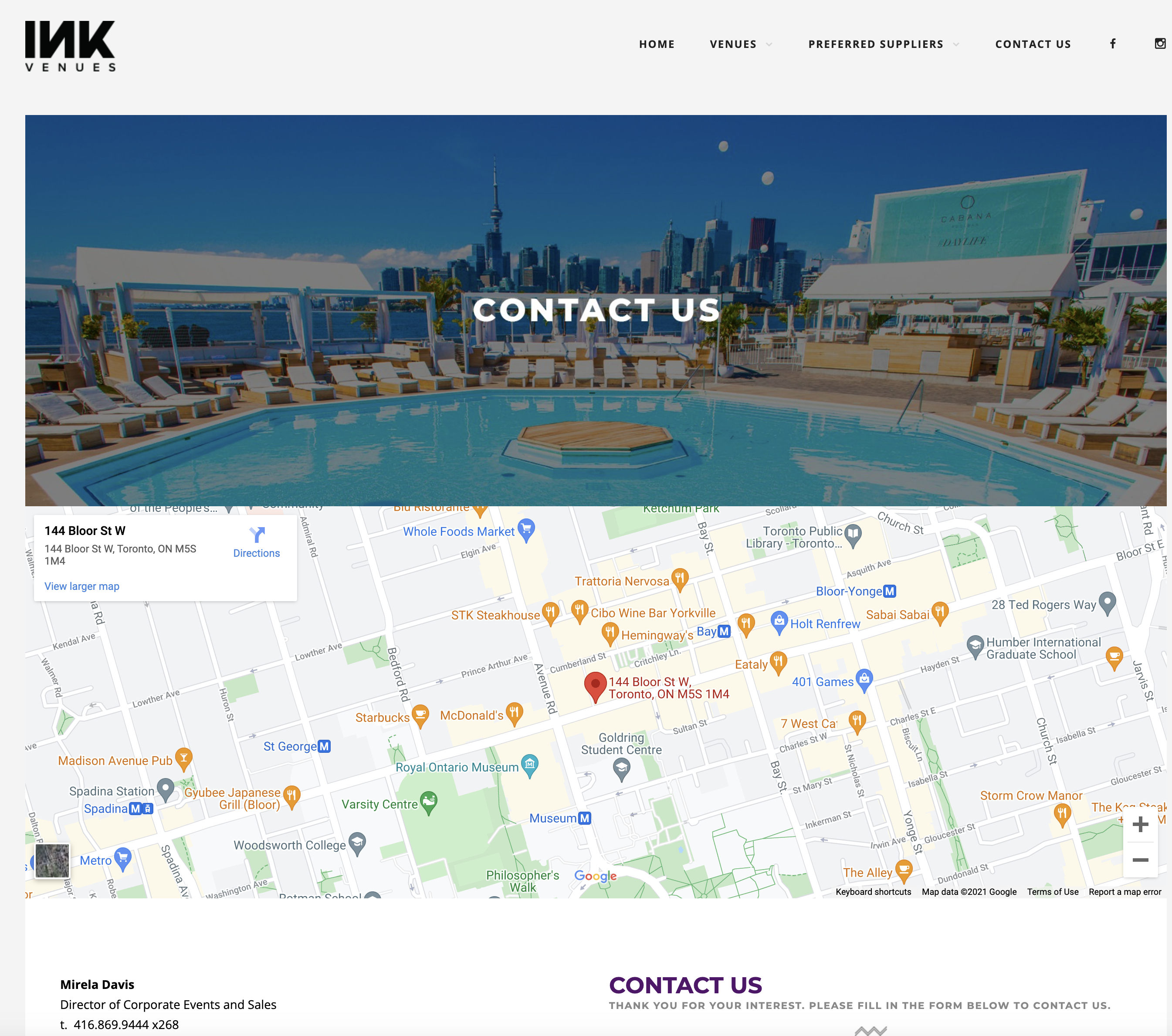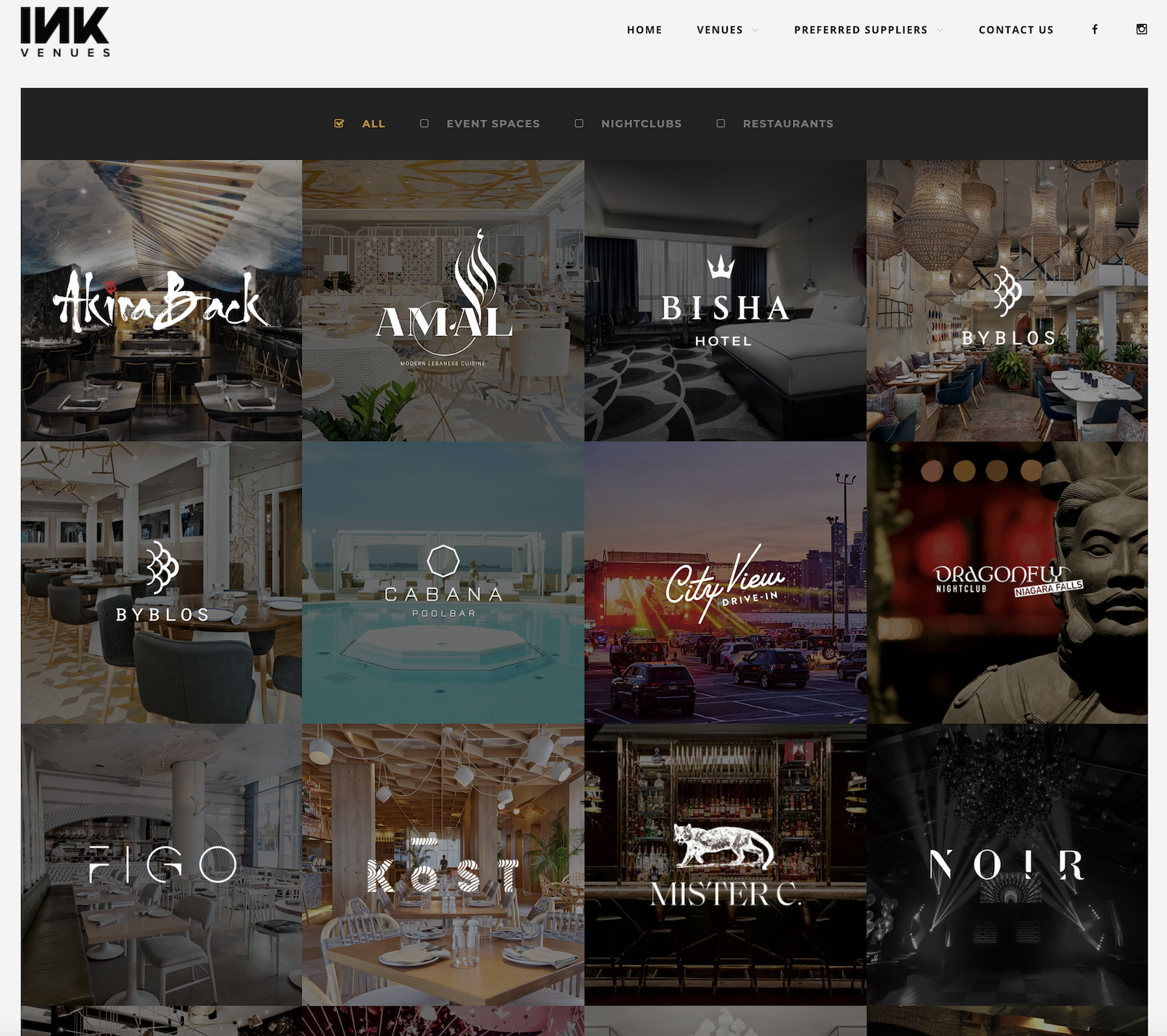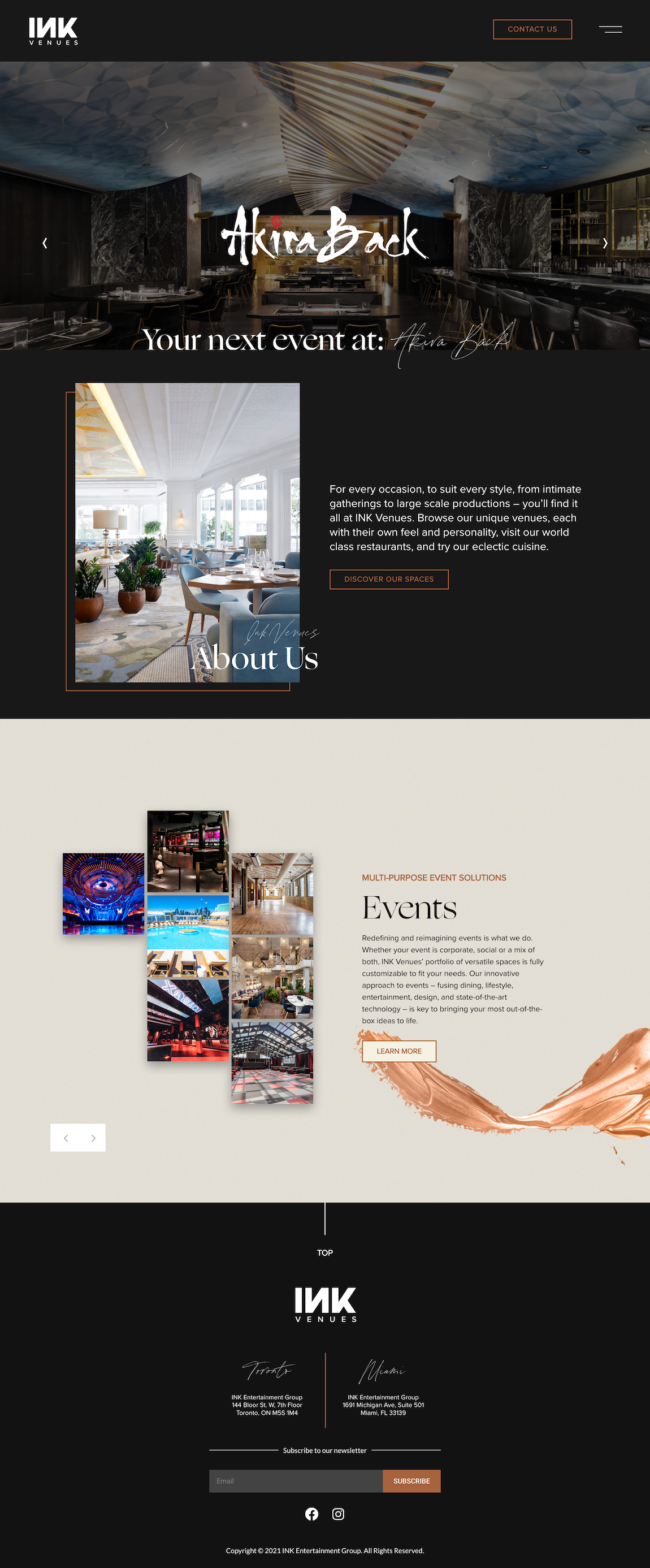 Homepage
Using Figma, I designed the new website using the updated branding and a refreshing modern design approach. For the homepage, it was important to provide the user with a glimpse of what INK Venues can provide as soon as they land on the page.
Each venue is built with unique, award-winning interior design so I used that imagery to my advantage by incorporating a full-screen hero section. Each individual venue slide links to the respective venue profile page, making it quick and easy for the user to learn more.
I also included an additional slider to showcase the different event types that were supported by the venue portfolio. At this point, the user is provided with sufficient information about which venues are available and the types of events they can support.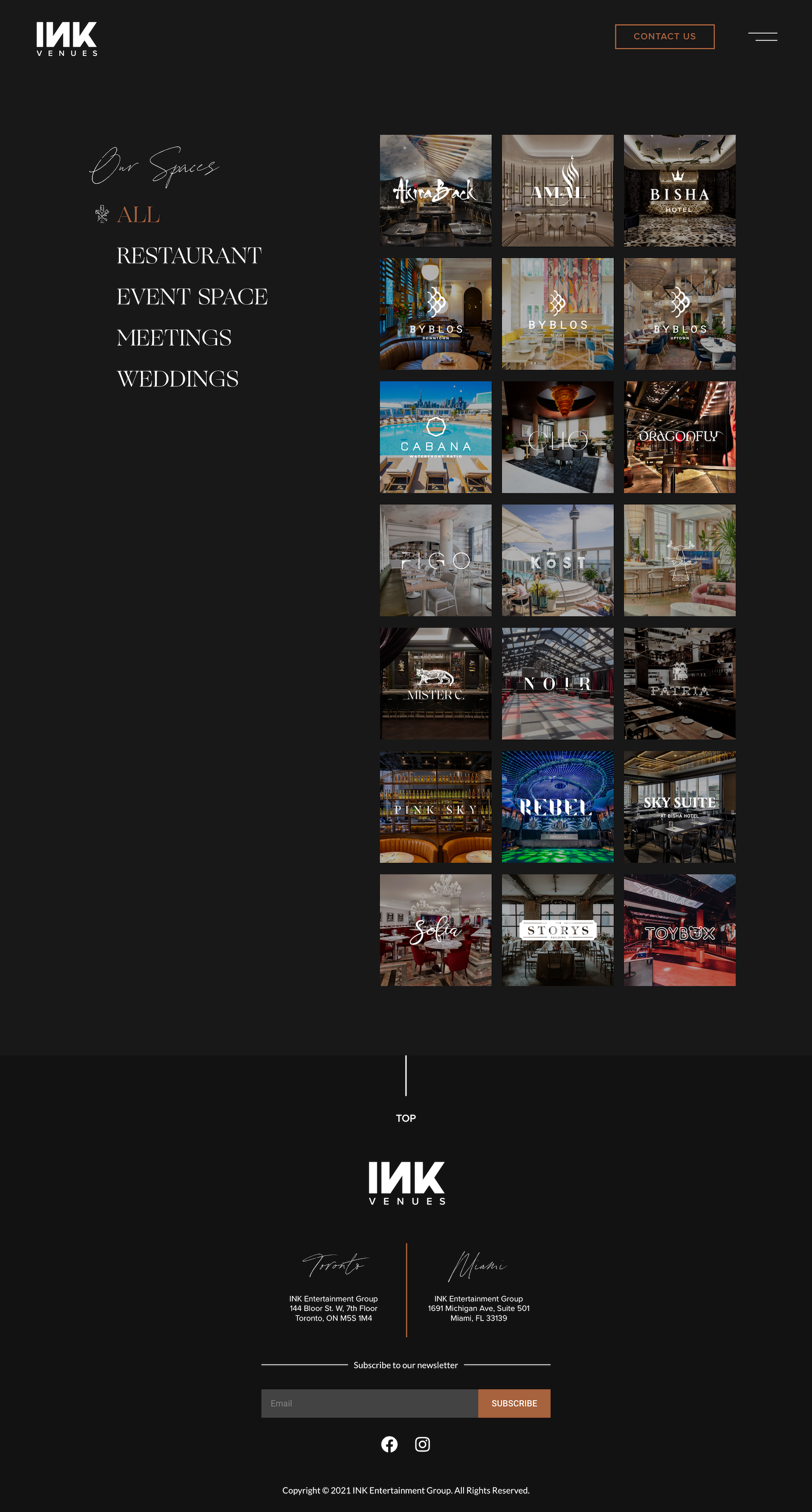 Venue Filter Page
Another important aspect of this redesign was redefining the information architecture of the original website. By analyzing past bookings and events, we narrowed down four categories of the most common event types and sorted each venue accordingly.
The venues were organized using the following categories:
All

Restaurants

Event Spaces

Meetings

Weddings
The venue filter page was then redesigned to have a clear navigation and updated sorting abilities, contingent with the categories we chose.

Venue Profile Page
The venue profile page was arguably the most important part of this project. After speaking with venue managers and event coordinators, I determined that capacity information was the most frequently asked question among clients who were interested in booking a venue. Usually at this point in the conversation, the floorplan would also be shared with the client.
With that in mind, I created a capacity section that broke down the different capacities per area, if applicable, for each venue. Supplementary information, such as a description and location were also provided for each venue. The user was also presented with an option to download the floorplan or contact now if they wish to book.
22%
Decrease in Bounce Rate
20%
Increase in Pageviews
Takeaways
This was an extremely rewarding project to work on for my professional development as a designer. I was able to conduct my own research and develop an approach for this redesign that provided a real-world impact & business value.